IN-STORE EVENTS at HOUSMANS
We regularly have a variety of events in the shop, and are always welcome for suggestions from authors, artists and campaigners who want to use the shop for evening events. Past events include talks, book signings, film screenings, art exhibitions and musical performances.
Click here for an archive; which includes a number of selected filmed highlights, of our previous events. Also, you can view video from some special events here.
Click the following button if you would like to directly add our events to your smartphone or desktop calendar using Google Calendar.

FEMINIST FORTNIGHT
Depraved & Corrupted: Feminism, Sexuality & Obscenity Law
with Catherine Scott, Lola Phoenix, Zak Jane Keir, Itziar Bilbao Urrutia 
Wednesday 27h June, 7pm
Entry £3 redeemable against purchase
Tickets in advance from Billetto essential

In what promises to be a lively, risque and feminist-centric discussion as part of Feminist Book Fortnight, four people with very different experiences of obscenity law discuss what the term means in supposedly liberal modern society, and its implications for those whose sexuality still falls outside of Gayle Rubin's 'charmed circle'. 

Catherine Scott's upcoming book "To Deprave & Corrupt" applies a sex-positive, feminist lens to the strange and inconsistent history of how obscenity has been defined in Britain. In conversation with erotic writer Zak Jane Keir, author and LGBT activist Lola Phoenix and feminist porn producer Itzi Urrutia.

As Scott's book explores, how did we get from a world where the term 'atheist' used to be synonymous with 'pervert', to a legal landscape where face-sitting is seen as a life-threatening act which must be censored?

Reviews of Catherine Scott

"In her debut, Thinking Kink, Catherine Scott demolished the myths behind the barbed relationship of feminism and BDSM. Now, in To Deprave and Corrupt, she turns her gimlet eye on the chequered history of British obscenity laws. Scott's breadth of knowledge is astonishing, and her prose is immensely readable (and, at times, very funny indeed): she's achieved in To Deprave and Corrupt that rare goal of scholarly writing that doesn't snare the reader at every turn in theoretical thickets of academic jargon." Dr Emma Rees, Institute of Gender Studies, Chester University

Catherine Scott will lead a panel featuring:

Lola Phoenix  
Lola is an agender identified LGBT activist, working in various capacities for a better world for lesbian, gay, bisexual, and transgender people since the ripe age of 12. Lola volunteers for a variety of organisations including Action for Trans Health and Stonewall Housing.

Zak Jane Keir
Zak Jane Keir is a veteran writer about sex and sexuality, happy to be known as a pornographer, feminist, storyteller and Morris dancer. She has been a member of Feminists against Censorship for a couple of decades at leat and was part of the launch team on For Women magazine in the early 90s. Now she writes mainly erotic fiction though is considering putting her memoirs out, runs bookstalls at fetish markets and does a few other things when she gets round to it.

Itziar Bilbao Urrutia 
Aka Ms Tytania, aka The Urban Chick Supremacy Cell, is a fetish video producer, visual artist and writer. Her background in art, with an MA in Fine Art from Goldsmiths College, gave her a creative and critical approach to fetish, and specifically, to her her sexuality, Femdom.

From 2010, she has been working on, The Urban Chick Supremacy Cell (http://uc-sc-femdom.com/), a fetish content website where she explores new narratives and representations of female sexual dominance, challenging the male gaze hegemony of mainstream porn. 

The UC-SC places Femdom within the aesthetics and rhetoric of historical political radicalism, such as Valerie Solanas and Ulkrike Meinhoff. The UC-SC was the first independent adult studio to win against ATVOD's proposed banning and censorship of non-normative porn production in UK.
BOOK LAUNCH
'Two Summers of Billy Morton'
with Barry Stewart Hunter
Wednesday 11th July, 7pm
Free entry, all welcome
Come and hear Barry Stewart Hunter read from his latest novel, a rites of passage tale set in that year of years, 1968.

'A POWERFUL EVOCATION OF A YOUNG MAN'S LIFE AND A QUEER LOVE LETTER TO 1960s PARIS'

1968. The world is on fire, and so is the imagination of a young English photographer hungry for self-knowledge. But knowledge comes at a price. When he swaps London for Paris on the eve of the May événements, falling disastrously for handsome Lafcadio in the process, the stage is set for the fateful choice that threatens to curse Billy forever. The road from innocence to experience has seldom been as sensitively mapped as in this meticulously scripted psychodrama that is also a hallucinatory metafiction, a hymn to photography, and a vivid portrait of the age.

ABOUT THE AUTHOR

Barry Stewart Hunter is the author of a novel, Aden, and two collections of short stories, Stories for Boys and Other Tales and Something You Once Told Me. As well as featuring in literary magazines and reviews, his stories have been collected in anthologies and broadcast on BBC Radio 4. A former BAFTA Scotland 'Best Newcomer' (script) and a graduate in screenwriting of the National Film and Television School, he lives in north London.


'Class Matters: Inequality and Exploitation in 21st Century Britain' with Charles Umney, Barbara Samaluk and Richard Seymour
Wednesday 18th July, 7pm
Entry £3 redeemable against purchase
*Advance booking recommended*
Tickets available here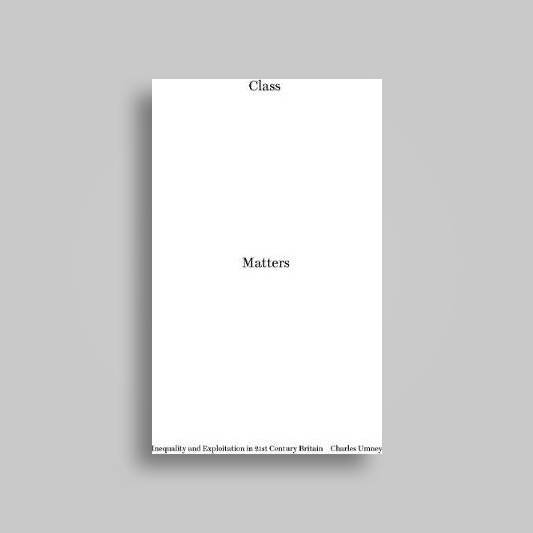 Social class remains a fundamental presence in British life in the twenty-first century. It is woven into the very fabric of social and political discourse, undiminished by the end of mass industry; unaugmented despite the ascendancy of 'ordinary working people' and other substitute phrases. Absent from this landscape, however, is any compelling Marxist expression or analysis of class.
In Class Matters, Charles Umney brings Marxist analysis out of the 19th century textiles mill, and into the call centres, office blocks and fast food chains of modern Britain. He shows how core Marxist concepts are vital to understanding increasing pay inequality, decreasing job security, increasing routinisation and managerial control of the labour process.
Providing a critical analysis of competing perspectives, Umney argues that class must be understood as a dynamic and exploitative process integral to capitalism - rather than a descriptive categorisation - in order for us to better understand the gains capital has made at the expense of labour over the last four decades.
Reviews
'A sophisticated answer to impoverished sociologies and cheap media cliches ... A sharp and deeply necessary book' - Richard Seymour, author of Corbyn: The Strange Rebirth of Radical Politics (Verso, 2017).
'Charles Umney presents a powerful and nuanced alternative narrative driven by Marxist political economy. With a keen eye for irony, paradox, and the absurd, he analyses work, politics, and technology in capitalist societies. This is a witty and wise antidote to the mainstream diagnoses of our times' - Professor Ian Greer, Cornell University
'By reinstating the importance of Marxist analysis for understanding the relationship between class and social inequality in 21st century Britain, Charles Umney has written a highly cogent and perspicacious account of the formation of contemporary inequality and exploitation... a vital source' - Professor Paul Stewart, former editor of Work, Employment and Society
About the Speakers
Charles Umney is a Lecturer at the University of Leeds. He teaches, researches and writes on the subjects of trade unionism, working conditions and employment policy across Europe, and has also published extensively on the topic of working life in live music. He is the author of Class Matters (Pluto, 2018).
Barbara Samaluk is a Postdoctoral Research Fellow at the Department of Human Resources and Organisational Behaviour, University of Greenwich. Through her research projects she has actively cooperated with trade unions and emerging social movements. She has presented papers and organised international workshops and special sessions at international conferences, published book chapters, reports, commentaries and articles in academic journals, such as Work, Employment and Society, Industrial Relations Journal and Ephemera.
Richard Seymour is a writer and broadcaster, activist and owner of the blog Lenin's Tomb. He is the author of books such as The Meaning of David Cameron (2010), Unhitched (2013), and Against Austerity (2014).
'War to Windrush: Black Women in Britain, 1939 to 1948'
with Stephen Bourne
Thursday 19th July, 7pm
Entry £3 redeemable against purchase
From the author of Black Poppies, Fighting Proud and Evelyn Dove comes a timely new account exploring Britain's diverse history from the Second World War to the Empire Windrush and beyond, told through the experiences of black British women.
Commemorating the 70th anniversaries of the arrival of the Empire Windrush on 22 June 1948 and the birth of the National Health Service on 5 July 1948, Stephen Bourne's War to Windrush shines a light on the lives of black women in Britain in the decade leading up to and just after those historic occasions.
Spanning the years from the start of World War II to the arrival of the Empire Windrush, this engaging and informative book celebrates the contribution of black women to British society in a decade of major upheaval and social change.
Alongside key figures such as wartime heroes Lilian Bader, Nadia Cattouse and Norma Best, and pioneers in the arts and media Una Marson and Winifred Atwell, War to Windrush pays homage to the unsung heroines who were integral to the post-war effort. It acknowledges those ordinary black women who contributed signficantly to rebuilding post-war Britain and creating a home for later generations, through their everyday lives.
Through strong imagery and evocative prose including many rare and previously unpublished photographs from Stephen Bourne's private collection, War to Windrush retraces the history of the black women who helped to build the great, multicultural Britain we know today. A much needed book in today's political climate.
ABOUT THE SPEAKER
Stephen Bourne is a writer, film and social historian specialising in black heritage and gay culture. As noted by the BBC among others,"Stephen has discovered many stories that have remained untold for years." Bonnie Greer, the acclaimed playwright and critic, says: "Stephen brings great natural scholarship and passion to a largely hidden story. His is highly accessible, accurate and surprising. You always walk away from his work knowing something that you didn't know, that you didn't even expect."
Stephen graduated from the London College of Printing with a bachelor's degree in film and television in 1988, and in 2006 received a Master of Philosophy degree at De Montfort University on the subject of the representation of gay men in British television drama 1936-1979.
After graduating in 1988, he was a research officer at the British Film Institute on a project that documented the history of black people in British television. The result was a two-part television documentary called Black and White in Colour (BBC 1992), directed by Isaac Julien, that is considered ground-breaking. In 1991 Stephen was a founder member of the Black and Asian Studies Association. In the 1990s he undertook pioneering work with Southwark Council and the Metropolitan Police that resulted in the founding of one of the first locally-based LGBT forums to address homophobic crime. In 2003 Stephen received the Metropolitan Police Volunteer Award. It was presented to him by Police Commissioner Sir John Stevens at City Hall, London. The citation said: "Stephen has discharged this responsibility with enthusiasm and conscientiousness in a number of high profile cases, most notably the tragic murder of Peckham schoolboy Damilola Taylor. In each he has provided good advice on strategy and tactics whilst informing the public of difficulties encountered within investigations and efforts made by police to achieve successful outcomes."
In 1991, Stephen co-authored Aunt Esther's Story with Esther Bruce (his adopted aunt), which was published by Hammersmith and Fulham's Ethnic Communities Oral History Project. Nancy Daniels in The Voice (8 October 1991) described the book as "Poignantly and simply told, the story of Aunt Esther is a factual account of a black working-class woman born in turn of the century London. The book is a captivating documentation of a life rich in experiences, enhanced by good black and white photographs." For Aunt Esther's Story, Stephen and Esther were shortlisted for the 1992 Raymond Williams Prize for Community Publishing.
In 1998 Stephen researched and scripted the BBC Radio 2 series Their Long Voyage Home, presented by Sir Trevor McDonald, for the BBC's Windrush season. For his acclaimed book Black in the British Frame: The Black Experience in British Film and Television (2001), Stephen received the Southwark Civic Award. In 2004 Stephen began contributing biographies about black Britons to the Oxford Dictionary of National Biography (Oxford University Press) and by 2016 Stephen's total had reached forty.
In 2008 Stephen researched Keep Smiling Through: Black Londoners on the Home Front 1939-1945, an exhibition for the Cuming Museum in the London Borough of Southwark and that same year he worked as a historical consultant on the Imperial War Museum's War to Windrush exhibition.
In 2014 Stephen's book Black Poppies: Britain's Black Community and the Great War was published by The History Press to coincide with the centenary of Britain's entry into World War I. Reviewing it in The Independent (11 September 2014), Bernadine Evaristo said: "Until historians and cultural map-makers stop ignoring the historical presence of people of colour, books such as this provide a powerful, revelatory counterbalance to the whitewashing of British history." For Black Poppies Stephen received the 2015 Southwark Arts Forum Literature Award at Southwark's Unicorn Theatre.
'Work: The Last 1,000 Years' with Andrea Komlosy
Wednesday 25th July, 7pm
Entry £3 redeemable against purchase
Say the word "work," and most people think of some form of gainful employment. Yet this limited definition has never corresponded to the historical experience of most people—whether in colonies, developing countries, or the industrialized world.
That gap between common assumptions and reality grows even more pronounced in the case of women and other groups excluded from the labour market.
In this important intervention, Andrea Komlosy demonstrates that popular understandings of work have varied radically in different ages and countries. Looking at labour history around the globe from the thirteenth to the twenty-first centuries, Komlosy sheds light on both discursive concepts as well as the concrete coexistence of multiple forms of labour—paid and unpaid, free and unfree. From the economic structures and ideological mystifications surrounding work in the Middle Ages, all the way to European colonialism and the industrial revolution, Komlosy's narrative adopts a distinctly global and feminist approach, revealing the hidden forms of unpaid and hyper-exploited labour which often go ignored, yet are key to the functioning of the capitalist world-system.
Work: The Last 1,000 Years will open readers' eyes to an issue much thornier and more complex than most people imagine, one which will be around as long as basic human needs and desires exist.
Reviews
"Andrea Komlosy has written an important book on the global history of work during the past 800 years … she thinks about labour on a global scale, thus overcoming a deep Eurocentric bias in much of the labour history as it exists, and she brings feminist conversations on labour into an analysis of virtually all aspects of labour history. Her book is unique, I am not aware of any other such volume."
– Sven Beckert
"As Andrea Komlosy argues in Work: The Last 1,000 Years, our conception of what constitutes work has changed markedly over time. The professor of social history at the University of Vienna writes that our commonly accepted definitions are too narrow, too European, too male and too modern"
– John Thornhill, Financial Times
"Komlosy's analysis is a helpful reminder that our familiar understanding of work is narrow and historically exceptional. The hierarchy we have established in the industrialized West, placing permanent, full-time, legally contracted wage work at the top of a pyramid of social good, is deeply flawed—denigrating not only those millions who work outside its confines, but also devaluing and neglecting the kinds of nonwork activities that enrich and give meaning to human lives. By showing that 'work' may exist without wages, a boss or a workplace outside the home, Komlosy's analysis allows us to think more broadly about what we value, and whether we want to continue to separate work and life."
– Joanna Scutts, In These Times
"Teeming with insights, from the contempt for manual labour in ancient Greece to the historical tendency for all kinds of subsistence tasks to be 'housewife-ized' into unpaid domestic labour."
– Barbara Kiser, Nature
About the Author
Andrea Komlosy is Professor in the Department of Economics and Social History at the University of Vienna, Austria, where she coordinates the Global History and Global Studies programmes. She has published on labour, migration, borders and uneven development on a regional, European and global context. She was also a 2014/2015 Schumpeter Fellow at Harvard University's Weatherhead Center for International Relations.
'The Shock Doctrine of the Left'
with Graham Jones & Alex Williams
Wednesday 1st August, 7pm
Entry £3 redeemable against purchase
How can the left create a movement able to overcome neoliberalism - one that proactively brings about the future, and doesn't just react against the present?
Graham Jones's new book The Shock Doctrine of the Left looks to the neoliberal strategy of using moments of shock to push through reforms, and turns it on its head. Combining his experience in grassroots organising with a 'systems thinking' approach, he shows how understanding, preparing for and even creating chaos is necessary to building a strategy for the left.
This framework is used to show how different existing focuses of the left can be brought together, so that we are simultaneously Smashing our enemies, Building new alternatives, Healing from oppression and our capacity to oppress, and Taming the worst effects of capitalism. By balancing acute analysis with accessibility, the book aims to provide a set of empowering tools for social movement action and strategic thinking.
Graham will be joined in conversation on the topics of the book by Alex Williams, co-author of Inventing the Future.
http://politybooks.com/bookdetail/?isbn=9781509528547
REVIEWS
'Through a series of personal expositions and structural analyses, The Shock Doctrine of the Left presents a captivating and disarmingly accessible reflection on strategy for the left today. With a unique ability to synthesise what are often divisively opposed positions, this illuminating book is a must-read for anyone wondering how to build power.'
– Nick Srnicek, University of London, author of Platform Capitalism (Polity, 2016) and Inventing the Future (Verso, 2015 with Alex Williams)
'The Shock Doctrine of the Left is a forceful, concise, and accessible guide to multi-scalar organising. It balances original theoretical insights with practical political acumen, and deserves the widest possible audience.'
– Helen Hester, The University of West London, author of Xenofeminism (Polity, 2018)
ABOUT THE AUTHOR
Graham Jones is a social movement activist who has been involved in a range of grassroots campaigns and educational initiatives, such as the Radical Think Tank and Radical Housing Network. He is a hairdresser by profession.
Alex Williams is a lecturer in the department of Politics, Philosophy, and Language Studies at the University of East Anglia. He is the author, with Nick Srnicek of Inventing the Future (2015), as well as the forthcoming Political Hegemony and Social Complexity (Palgrave Macmillan, 2019), and Hegemony Now: Power in the Twenty-First Century (Verso, 2019, with Jeremy Gilbert).
______________________________________________


Housmans Bookshop, 5 Caledonian Road, King's Cross,
London, N1 9DX
tel: 020 7837 4473
  e: shop@housmans.com
www.housmans.com