IN-STORE EVENTS at HOUSMANS
We regularly have a variety of events in the shop, and are always welcome for suggestions from authors, artists and campaigners who want to use the shop for evening events. Past events include talks, book signings, film screenings, art exhibitions and musical performances.
Click here for an archive; which includes a number of selected filmed highlights, of our previous events. Also, you can view video from some special events here.
'Marx Returns' a book launch and discussion with Jason Barker, Alberto Toscano and Matthew Beaumont
Wednesday 5th December, 7pm
Entry £3 redeemable against any purchase

An imaginative, uplifting, and sometimes disturbing alternative history.
~ Nina Power, Los Angeles Review of Books
If you're inclined to doubt the dramatic potential of differential calculus then take my advice and read this marvellous novel. ~ Rachel Holmes, author of Eleanor Marx: A Life
An outstanding work of fiction that goes to the very heart of Marx's revolutionary thinking.
~ Slavoj Žižek, Birkbeck Institute for the Humanities
Join writer and filmmaker Jason Barker talking about his acclaimed new novel and what the revolutionary life and ideas of Karl Marx might mean for our current political crises. Joining the conversation will be Alberto Toscano (Reader in Critical Theory, Goldsmiths) and Matthew Beaumont (Professor of English Literature, UCL). 
The Left Case Against the EU with Costas Lapavitsas
Saturday 8th December, 7pm
Advance tickets available here

Many on the left see the European Union as a fundamentally benign project with the potential to underpin ever greater co-operation and progress. If it has drifted rightwards, the answer is to fight for reform from within. In this iconoclastic polemic, economist Costas Lapavitsas combats this view. He contends that the EU's response to the Eurozone crisis represents the ultimate transformation of the union into a neoliberal citadel, which institutionally embeds austerity, privatisation and wage cuts. Concurrently, the rise of German hegemony has divided the EU into an unstable mixture of wealthy core and dependent peripheries.
These related developments make the EU impervious to meaningful reform, particularly as its institutions are fundamentally designed to uphold the interests of capital against labour. The solution is therefore a direct challenge to the EU project that stresses popular and national sovereignty as preconditions for socialism and true internationalism. Lapavitsas's manifesto for a socialist opposition to the EU will be a challenging read for all on the left interested in the future of Europe.
With Brexit negotations reaching their crunch point by December, join us for what will no doubt be a fascinating discussion on what lies ahead for European politics.
"For those wanting a clear and concise summary of the left case against the euro and of the misrepresentation of German European hegemony as the consummation of the "European idea," there is no way around this book. Nowhere has the political economy of the common currency and of German ascendancy in Europa been more clearly exposed. There is now no excuse anymore for denying or ignoring the disastrous consequences of German predominance, as established through the euro, for the unity of Europe and for the great majority of its citizens."
Wolfgang Streeck, Max Planck Institute for the Study of Societies
Costas Lapavitsas is a Professor of Economics at the School of Oriental and African Studies, University of London. He is a member of Research on Money and Finance (RMF). He is the lead author of the new RMF report Breaking Up? A Route Out of the Eurozone Crisis. His previous publications include Crisis in the Eurozone; Social Foundations of Markets; Money and Credit; and Political Economy of Money and Finance.
'A Radical History of the World' with Neil Faulkner
Wednesday 12th December, 7pm
Entry £3 redeemable against any purchase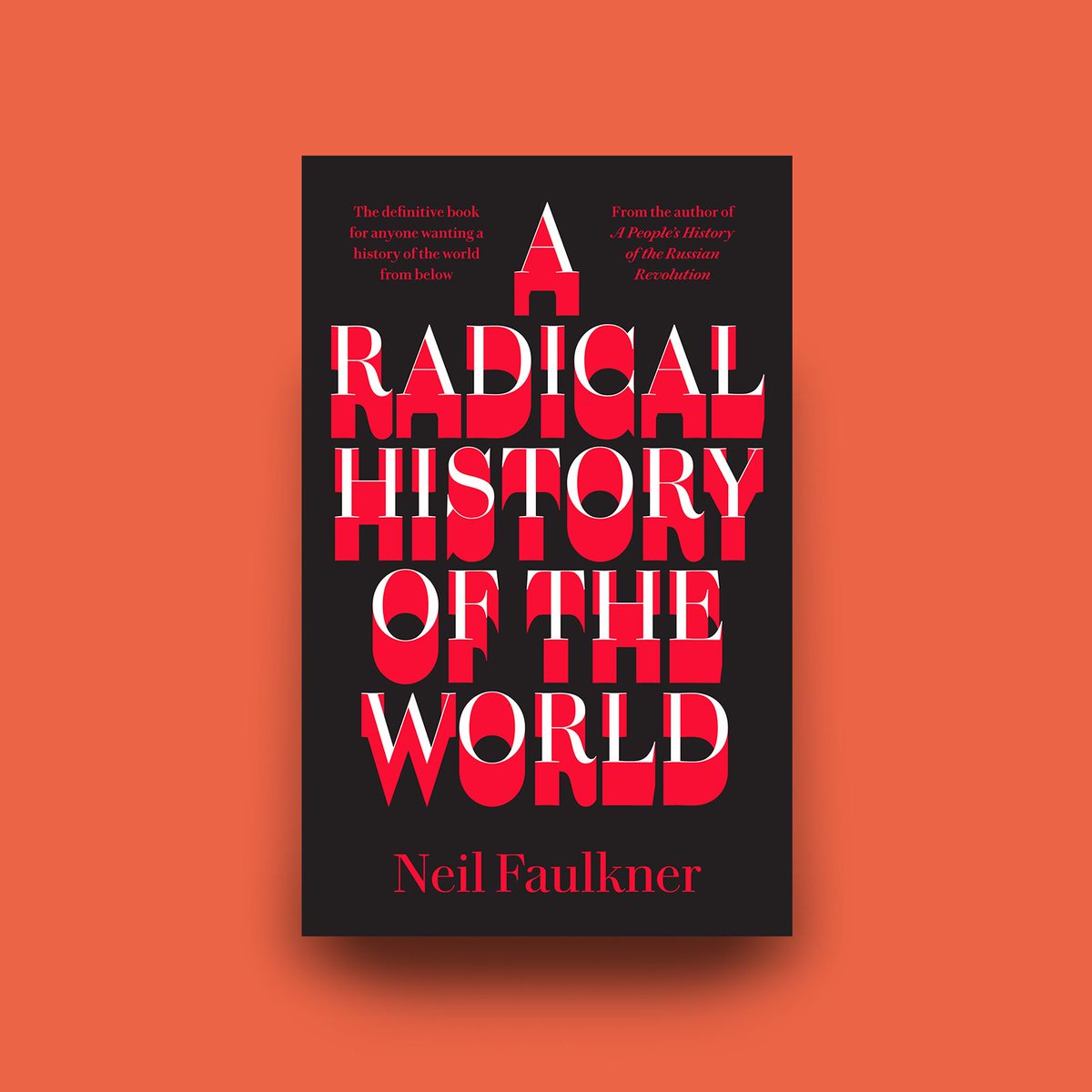 History is a weapon. The powerful have their version of events, the people have another. And if we understand how the past was forged, we arm ourselves to change the future.

This is the history of the struggle and revolution of human society: of hominids, hunters and herders; of emperors and slaves; of patriarchs and women; of rich and poor; of dictators and revolutionaries. From the ancient empires of Persia and Rome to the Russian Revolution, the Vietnam War, and the 2008 Crash, this is a history of greed and violence, but also of solidarity and resistance.

Many times in the past, a different society became an absolute necessity. Humans have always struggled to create a better life. This history proves that we, the many, have the power to change the world.

Join Neil to give an overview of a people's history of the world, copmressed into an hour!
Neil Faulkner is a historian and archaeologist. He is the author of numerous books, including A Radical History of the World (Pluto, 2018),A People's History of the Russian Revolution (Pluto, 2017) and Lawrence of Arabia's War (Yale, 2016).
"Sex Drive: On the Road to a Pleasure Revolution"
with Stephanie Theobald
Thursday 10th January, 7pm
Entry £3 redeemable against any purchase
Wouldn't it be great to be honest about your desire? To take time out to discover what your desire really is?
Arriving in New York with a failing relationship and a body she felt out of touch with, Stephanie Theobald set off on a 3,497-mile trip across America to rebuild her orgasm from the ground up. What started as a quest for the ultimate auto-erotic experience became a fantastic voyage into her own body.
She takes us from a 'masturbation masterclass' with the legendary 1970s feminist Betty Dodson to a weekend with the first African American Surgeon General, Joycelyn Elders, who was fired by Bill Clinton for suggesting that solo sex should be talked about in schools. Along the way, we are immersed in a countercultural America of marijuana lollipops, alien pleasure cults and 'ecosexual' sexologists.
Sex Drive is a memoir about desire and pleasure and loss, merging sexuality and spirituality, eighteenth-century porn and Enlightenment philosophy. It explores female sexuality in an honest way and welcomes a new wave of sex-positive feminism into the twenty-first century.
About Stephanie Theobald
Stephanie Theobald is a British journalist, novelist, public speaker and broadcaster known for her playful and thoughtful work around sexuality and feminism. The Times described her as'one of London's most celebrated literary lesbians'and she writes regularly for the Guardian, the Sunday Times and Elle UK. She is the author of four novels, most recently A Partial Indulgence (Sceptre, 2010). She lives between London and Los Angeles.
'The Happiness Fantasy' with Carl Cederstrom
Wednesday 23rd January, 7pm
Entry £3 redeemable against any purchase
In this witty new book, Carl Cederström traces our present-day conception of happiness from its roots in early-twentieth-century European psychiatry, to the Beat generation, to Ronald Reagan and Donald Trump. He argues that happiness is now defined by a desire to be "authentic", to experience physical pleasure, and to cultivate a quirky individuality. But over the last fifty years, these once-revolutionary ideas have been co-opted by corporations and advertisers, pushing us to live lives that are increasingly unfulfilling, insecure and narcissistic.

In an age of increasing austerity and social division, Cederström argues that a radical new dream of happiness is gathering pace. There is a vision of the good life which promotes deeper engagement with the world and our place within it, over the individualism and hedonism of previous generations. Guided by this more egalitarian worldview, we can reinvent ourselves and our societies.
Reviews
"Happiness is big business - and big politics - these days. But as Cederstrom shows in this sharp and engaging book, its recent history can be disturbing. Combining humor with a much-needed skepticism, he shows that in a world of happiness, not all is smiles."
Darrin M. McMahon, author of Happiness: A History

"In this lively and acerbic book, Carl Cederstrom provides a compelling history of how a particular psychoanalytic ideal of happiness sucked us in, promising total fulfillment but ultimately trapping us in a lie."
Will Davies, Goldsmiths, University of London

"Pleasure was at the heart of the liberation struggles of the 1960s' but has morphed into a new form of ideology and tyranny, fed by the capitalist logic of incessant consumption. The happy self is not only a fantasy, an imperative to fulfill our potential, but also the impulse behind a wide variety of economic enterprises, orgasmic workshops, drugs, therapies, etc. Cedertrom's The Happiness Fantasy is a well-written, lively, and critical study of the fantasy that has wormed inside the core of our culture."
Eva Illouz, Hebrew University of Jerusalem

"A wonderful piece of work."
Simon Critchley, New School for Social Research

"With compelling clarity, wit and wisdom, Carl Cederström cuts through the disabling illusions ceaselessly promoting the personal pursuit of happiness, offering instead an altogether richer, more compassionate, embrace of life and its vicissitudes."
Lynne Segal, author of Radical Happiness: Moments of Collective Joy

About the Author
Carl Cederstrom is Assistant Professor at Stockholm University
'Rethinking Racial Capitalism' with Gargi Bhattacharyya
Wednesday 30th January, 7pm
Entry £3 redeemable against any purchase
How has capitalism created or enhanced racism? In what ways do the violent histories of slavery and empire continue to influence the allocation of global resources?
Rethinking Racial Capitalism: Questions of Reproduction and Survival proposes a return to analyses of racial capitalism – the capitalism that is inextricably linked with histories of racist expropriation – and argues that it is only by tracking the interconnections between changing modes of capitalism and racism that we can hope to address the most urgent challenges of social injustice.
It considers the continuing impact of global histories of racist expropriation on more recent articulations of capitalism, with a particular focus on the practices of racial capitalism, the continuing impact of uneven development, territory and border-marking, the place of reproductive labour in sustaining racial capitalism, the marketing of diversity as a consumer pleasure and the creation of supposedly 'surplus' populations.
Review
Full of intellectual energy and wit, Rethinking Racial Capitalism is a fascinating account of the entanglements between capitalism and racism, from the proliferation of territorial borders, to reparations and indebtedness. Fulfilling her promise of descriptive analysis, Bhattacharyya's storytelling is rich, alert, vibrant. Capitalism's allure appears as a hot bath, a teenage outfit, the opening of a menu. I didn't want the book to end.--Yasmin Gunaratnam, Reader in Sociology at Goldsmiths University of London, UK

An acutely observed, innovative and thought-provoking study of the articulation of racism with the development of capitalism. Replete with intersectional insights, it extends contemporary debate through a feminist lens. Careful socio-economic and political analysis is complemented with attention to issues of affect such as the trans-generational carryover of trauma. An excellent combination of analytical rigour with political acumen and compassion. A must-read for anyone concerned about the effects of racial capitalism.--Avtar Brah, Professor Emerita of Sociology, Birkbeck College, University of London

To read Gargi Bhattacharyya is always enlightening: she teaches how to think, not just what to think; she engages her readers as citizens, not just professors; and she grounds her scholarship in movements for liberation. Rethinking Racial Capitalism will transform our understanding of one of the key issues of the day - how capitalism and racism work together.--Arun Kundnani, New York University
About the Author
Gargi Bhattacharyya is Professor of Sociology at the Centre For Migration, Refugees and Belonging, University of East London, UK
______________________________________________


Housmans Bookshop, 5 Caledonian Road, King's Cross,
London, N1 9DX
tel: 020 7837 4473
  e: shop@housmans.com
www.housmans.com