Review: Aidan Ricketts, The Activists' Handbook: A step-by-step guide to participatory democracy
Zed Books, 2012; 256pp; £14.99 (Ricketts) and Beacon Press, 2011; 232pp; £13.99 (Mann)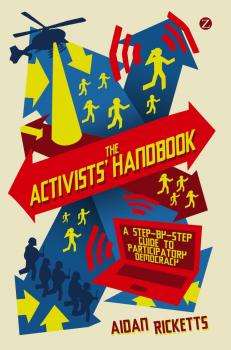 Here are two books by two longtime campaigners (both men, both white), trying to pass on lessons to younger generations, to folk newer to political engagement. As I was reading them, I was inevitably comparing them to two related, brilliant books that I think everyone involved in social change should read, that I've reviewed here before: Strategy & Soul, by Daniel Hunter; and Towards Collective Liberation by Chris Crass.
(So this is a review about being political active, written by a man [me], referencing books by four men. All of us with a middle-class upbringing, so far as I can tell, and all of us university-educated. Just keeping it real.)
If Strategy & Soul gets 10 out of 10 as a work to nourish and develop you as a person pursuing social change, and Towards Collective Liberation gets 9 (10 if you're a young white anarchist), then I'd say Playbook for Progressives gets a solid 7 and the Activists' Handbook (sorry, Zed Books, I love you but I have to be honest) is stretching to get a 5.
Being positive
What's good about the Activists' Handbook? It seems to come alive where I think it most directly touches on the author's personal experience and aptitudes: the sections on media work and police liaison. Here there are checklists, a step-by-step approach, something you can use practically.
On police liaison, Ricketts has an unusual tactic – 'the right to be arrested' – with which he's had some successes:
'In some cases police take offence at the fact that some people are knowingly going to break the law. It is a good idea to explain that they are making a political statement, which they have a right to do, and if they break the law "they have a right to be arrested and processes according to the law". This rather odd-sounding "right to be arrested" is an amazingly simple way of clarifying the difference between a riot and an orderly demonstration of civil disobedience. From personal experience, this explanation usually calms the police officer down and defuses confrontation.'
There are also a few stories (inspiring and useful) coming out of Aidan Ricketts' 12 years as a leading figure in the North-East Forest Alliance, defending old-growth forests in Australia – with considerable success.
I loved their takeover of the New South Wales forestry department building, first thing in the morning. The 20 activists took over the multi-story building before anyone had arrived for work – as soon as the security system deactivated to allow workers in. They'd made metal devices to keep doors closed from the inside, and used them to 'lock' all ground floor and basement entrances within minutes of getting in. Then they did a banner hang ('Under New Management'), and used the commissioner's official fax machine to send out pre-prepared press releases and communicate a new 'Forestry Charter' to all regional offices as an 'urgent directive'.
Mostly, though, the book betrays its origins in Ricketts' university-accredited activism training course at Southern Cross University, at the week-long Byron Bay Summer Law School programme. I found a lot of the book academic, plodding, over-comprehensive and obvious.
Here's a sample of the writing style and level of advice: 'Legal action is not always fun. It is hard work and often takes place under very stressful circumstances. If you want the court action to be successful you must put in the time and effort necessary to achieve your goal. Wins in court don't come easily, and losses can certainly occur because of rushed or poorly prepared or poorly organized cases.'
I think, in general, Ricketts has tried to pack in too much, without having a strong enough prose style or personality behind the text to carry it off: democracy theory; strategy-making; media work; research; legislative action; direct action; corporate, digital and legal activism; and, finally, dealing with burnout.